4 Minute Read:
Few plastic surgery procedures have as dramatic of an effect on your appearance as rhinoplasty (cosmetic nose surgery). That's one of the reasons why rhinoplasty is constantly the most performed plastic surgery procedure every year.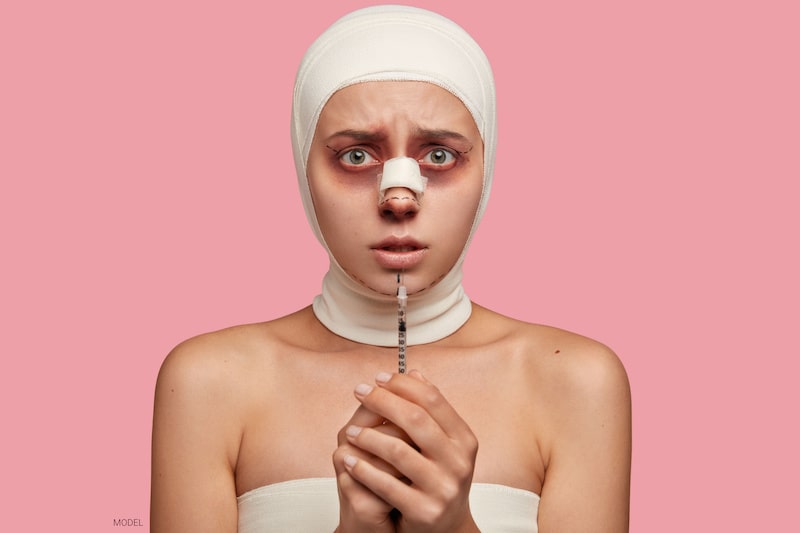 Whether you are frustrated with a nose that is too big or too small for your face, a crooked nose, or a nose with imperfections (like nasal humps or an upturned or down turned nasal tip), corrective nose surgery can help give your face the balanced appearance you've always dreamed of.
However, the reality is that rhinoplasty is one of the most difficult cosmetic surgeries. Even with the most trained and experienced plastic surgeon, your results may not be exactly what you were expecting. And even if they are initially, healing irregularities can cause dissatisfaction later.
While no one wants to be disappointed with their cosmetic surgery results, the good news is that revision rhinoplasty can correct the results of your initial "nose job" to give you the results you are looking for.
What Is Revision Rhinoplasty?
Revision rhinoplasty is a surgical procedure that corrects unsatisfactory results from an initial rhinoplasty procedure.
The goal of revision rhinoplasty is to create or restore balance to a patient's facial aesthetic. Additionally, a revision procedure can help improve breathing if there is an issue with your airway. It is important to understand that revision surgery will not simply erase the initial rhinoplasty procedure but, instead, work toward the results you were initially looking for.
How Is Revision Rhinoplasty Different From Rhinoplasty?
The truth is that revision rhinoplasty is a more complex and complicated procedure. This is largely due to the presence of scar tissue that formed after the original surgery. Scar tissue can make it difficult for your cosmetic surgeon to address the structural issues of the nose.
Cartilage, mostly found in the septum, the middle wall of the nose, is the building block of nasal surgery, especially revision rhinoplasty. Many revision rhinoplasty patients do not have enough cartilage left to properly sculpt the nose, as the cartilage may have been removed during the first procedure. If this is the case, cartilage grafts, from the ribs, ears, or cadavers, may be needed to add strength and structure to the nose, allowing Dr. Aly to create the desired nasal appearance.
Because revision rhinoplasty is a more complex procedure, it can often result in a longer recovery than your first nose surgery. However, the benefits of a revision procedure are extensive. You can look forward to the nose shape and size you've always wanted, which can transform your entire facial appearance.
Why Do Patients Choose Revision Rhinoplasty?
Men and women can be dissatisfied with their rhinoplasty results for several reasons. Sometimes this is because the initial surgeon is under or over-aggressive with their techniques; other times, it is simply because the nose did not heal as intended.
Additionally, facial injuries after rhinoplasty may require a secondary procedure.
Why Should You Choose Dr. Aly for Your Revision Rhinoplasty?
If you have undergone a rhinoplasty procedure and are not satisfied with your results, you may be a candidate for revision rhinoplasty.
Choosing the right cosmetic surgeon to complete your revision procedure is of the utmost importance. Revision surgery is extremely complicated, and you don't want to trust your nose (and overall facial) aesthetic to just anyone. Instead, you want to ensure that your cosmetic surgeon is trained and skilled in revision procedures. One of the most difficult aspects of nasal surgery, and especially revision rhinoplasty, is operating on the internal structures like the septum and turbinates. Dr. Aly was trained in otolaryngology (ENT) prior to training in plastic surgery and thus his expertise in these areas allows him a greater latitude in how to handle problems that the average plastic surgeon is not equipped to deal with.
Dr. Al Aly is one of the most trusted plastic surgeon professionals in the Dallas area. He is a board-certified plastic surgeon with over 25 years of experience, and his expertise and skills are evident when you look at the stunning and transformative results he has achieved for his patients.
In addition to being a skilled plastic and reconstructive surgeon, Dr. Aly makes sure to put his patients at the front of everything he does. From your consultation to your recovery, Dr. Aly will ensure that you receive the attention and care you deserve.
Interested in Learning More About Dallas Rhinoplasty?
If you want to learn more about how Dr. Aly can help correct your nose after you've already undergone rhinoplasty, or any of the other facial contouring procedures that Dr. Aly offers in and around Dallas, Texas, schedule a consultation by calling 214-645-3213 or filling out our online contact form.