Breast Implant Removal

in Dallas, TX
Model
While some women hope to have a long relationship with their breast implants, this is not always possible in every case. Whether the issues are with the implants themselves or a woman's desire to change her aesthetic, sometimes the time is right to remove breast implants.
Regardless of the reason, Dr. Aly can help patients safely remove their breast implants, increasing their comfort and satisfaction with their bodies.
What Is Breast Implant Removal?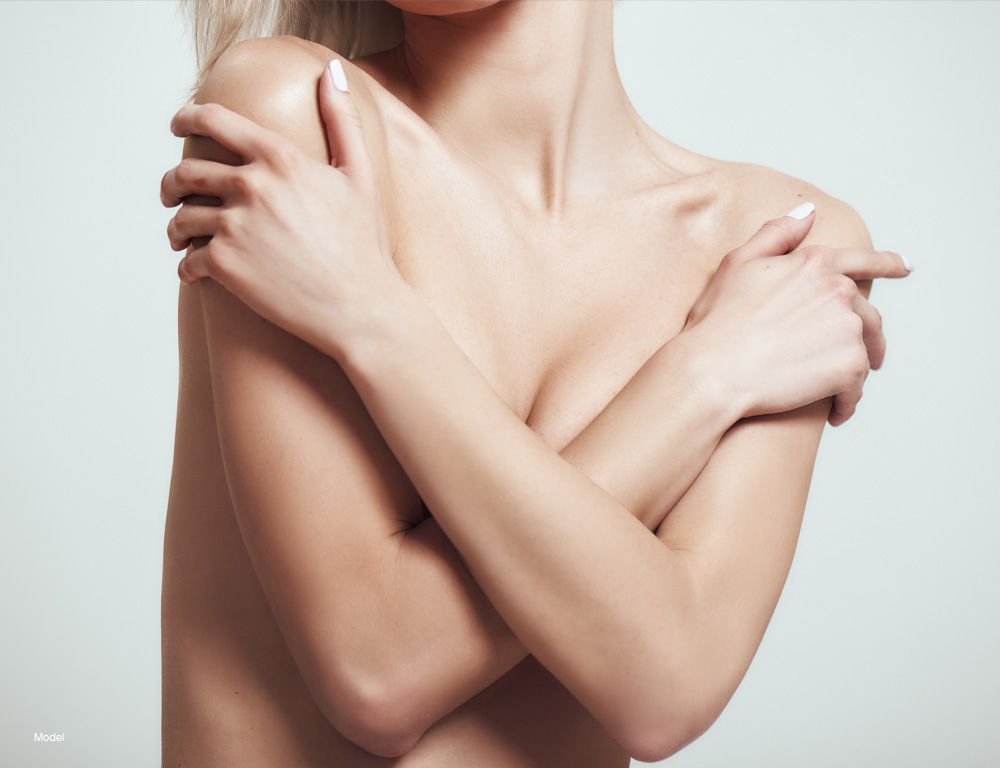 Breast implant removal, sometimes called explantation, is a surgical procedure that removes breast implants, and in some instances, some of the surrounding scar tissue, from a prior breast augmentation surgery. This can be an entirely elective procedure a woman decides on in the case of an ill fit, poor healing, capsular contracture, or simply a change in taste. In other instances, implant issues may prompt a woman to undergo breast implant removal surgery. This procedure can be performed as a standalone or with another procedure, such as breast implant revision.
Why Choose an Experienced Surgeon for Your Breast Implant Removal?
It can be disheartening to undergo a secondary breast procedure, especially if you were unhappy with your initial results. This is why choosing an experienced plastic surgeon you trust is crucial to getting you the desired results you deserve.
Dr. Aly has been practicing for over 25 years and is one of the top-rated plastic surgeons in and around Dallas, Texas. With his eye for beauty, surgical precision, and compassionate bedside manner, Dr. Aly inspires confidence and comfort in his patients at every stage, from consultation to recovery.
What Can a Breast Implant Removal Correct?
Just as she decides to undergo breast augmentation, it is a woman's choice to remove her implants. This can be for a variety of reasons, including aesthetic and medical. Some popular reasons a woman might choose to remove her breast implants include:
Changes in lifestyle or aesthetic taste:
Some patients initially desire more prominent breasts, then change their minds later in life. Others may still like their breast implants but find large breasts cumbersome for their daily lives.
Issues pertaining to the breast implants:
Rippling, rupture, capsular contracture, or shifting can all contribute to a woman's decision to remove her implants. These issues can stem from a poor surgical result, suboptimal healing, or damage to the implant. Sometimes, these women choose explantation as part of a breast implant revision procedure.
An increase in natural breast size:
Some patients undergo their initial breast augmentation at a young age, only to experience changes to their bodies later in life. Hormone changes and weight gain can increase the size of natural breast tissue, resulting in breasts that are much larger than the patient envisioned.
Breast Implant Removal Procedure
Dr. Aly will work out the best technique for removing the breast implants, considering your goals for the procedure and whether you will be replacing the implants. In many cases, Dr. Aly can simply remove the breast implants, placing the incision over the original scar when possible. Other cases may require the removal of scar tissue, called a capsulectomy.
The nature of your specific procedure will be determined during your consultation when Dr. Aly will examine the treatment area, listen to your concerns and goals, and choose the best course of action to get you the desired results.
How Long Does Breast Implant Removal Take?
The total time for breast implant removal will depend on several factors, including the condition of the implants and whether they are intact or ruptured. Surgery length is also affected by whether a capsulectomy is needed and, if so, the amount of revision required, the condition of the breast tissue and skin elasticity, and if concurrent procedures are performed such as a breast reduction, or breast lift.
Is Breast Implant Removal Painful?
Dr. Aly performs every breast implant removal using general anesthesia, so you will feel no pain or discomfort during the surgery. This procedure is outpatient so that you can return home following surgery with a driver's assistance.
You may experience swelling, bruising, and discomfort in the first few days. Pain is managed with a specialized regimen that minimizes narcotics and emphasizes non-narcotic pain control.
How Long Is Breast Implant Removal Recovery?
Explantation alone has a relatively straightforward recovery period, with minimal pain and downtime. Most patients can return to work after a few days, with limited strenuous activity for a few weeks. Dr. Aly will provide specific aftercare instructions to ensure a safe and effective healing process.
Have additional questions about breast implant removal?